Description
Dolcevita renews the world of above-ground pools thanks to a sound technology which is on the market for over 40 years, and its innovative and graceful design.
Dolcevita can adapt to the needs of a changing family, allowing thoughts, repositioning, moving, resale to purchase another one.
Its versatility allows easy and quick installation even in areas with seasonal permits only.
Dolcevita provides a recirculating and filtration system which enables the highest quality and hygiene of the water purity.
Dolcevita comes up in two different models: Diva and Rattan,with high quality materials that ensure long time use.
Dolcevita Diva LTI incorporate inside pumps and other optional fittings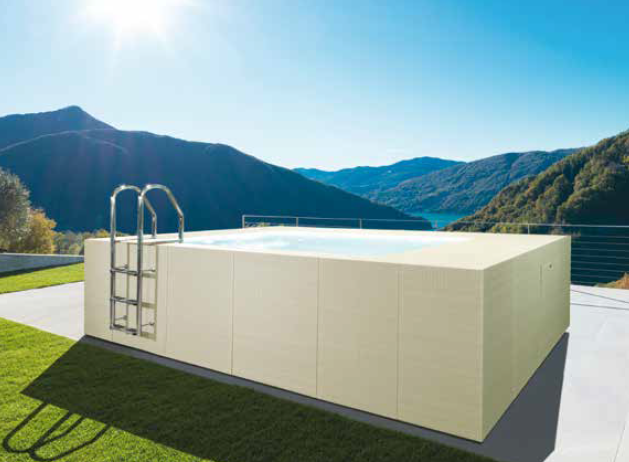 Structure
Stainless steel and hot-dip galvanized steel structure protected with epoxy powder (ZSV-TEC). Hardware of stainless steel with anti-grip nuts.
Finishes
INTERIOR: The pool membrane is made of polyesters fibers and high strength polymers for max durability. This super strong material is subsequently treated anti-UV, through the use of special additives which limit the aging of the material. The Dolcevita membrane is tensile strength of 430kg/5cm according to DIN 53354.
EXTERIOR: Hand woven wicker fabric  panels.
TOP EDGE: Hand woven wicker fabric .
Standard Equipments
Exclusive  filtration and treatment system
> Low energy Led Spotlights
> Ladder
> Vacuum cleaner Kit
Optional Equipments
Special base frame for assembly directly on the ground without construction works
> Additional structural components for underground or terrace installation
> Stream swimming system
> Heat pump water heating and cooling
> Corner bench in solid surface with air whirlpool
> Winter and summer thermal top covers
> Automatic control system of the water level

>Automatic cover